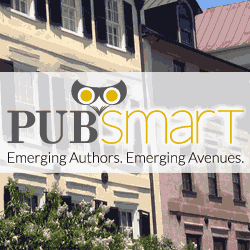 April's PubSmart conference takes place in Charleston, SC, and folks worldwide are excited – just check out the hashtag for #PubSmartCon for some cool faculty, sponsor and attendee buzz!
VERY IMPORTANT: The early-bird registration deadline for PubSmart 2014 ends February 1st.  Early bird pricing offers you a $50 discount for either regular registration or VIP registration that includes TWO $50 master classes and $50 preferential brunch seating! So, it's a good idea to get in early, and the conference is on track to sell out well before the final registration deadlines.
Here are some fast facts, discount info (how to save another $50!), and "what you get" benefits about PubSmart 2014!
Website
http://pubsmartcon.com/ Visit for full schedule of events, faculty bios, conference blog posts, sponsor and exhibitor links, ticket ordering info, hotel discounts and more.
What is PubSmart?
An unprecedented gathering of publishing professionals, some of the smartest on the planet. They represent today's broad range of publishing opportunities – self publishing, traditional, small press and hybrid. This is a new kind of event that puts every emerging author or small publisher in the driver's seat and gives you the information you need to create a customized roadmap for success!
Who Should Attend?
Traditionally published authors who want to improve sales and discover new markets and avenues for their work
Self-published authors who want to reach more readers
Aspiring authors seeking guidance from industry professionals
Independent publishers who want to better serve their authors and improve performance
What Will You Learn?
How editors/agents can help further your publishing goals
Steps to build your author platform, brand and persona
Insights from publishing professionals including successful authors, agents, editors, designers, and marketers
Where book publishing and marketing is headed in the digital era
How to build sales and buzz through reviewers, mass media and book clubs
Today's methods of raising funds, using discoverability tools and increasing distribution
Faculty (Editors, Agents, Authors and MORE!)
Hugh Howey, Keynote Speaker and Best-Selling Author
Jane Friedman, Keynote Speaker and Publisher Scratch Magazine
Chuck Adams, Executive Editor, Algonquin Books
Tracy Adams, Literary Agent, Adams Literary
Porter Anderson, Journalist and Consultant, Writing on the Ether
Amanda Barbara, CEO Pubslush
Tracy Bernstein, Executive Editor, Penguin Random House
Angela Bole, Executive Director, Independent Book Publishers Association
Lynda Bouchard, Publicist, Booking Authors Ink
Stephanie Bowen, Senior Editor, Sourcebooks
Brandi Bowles, Literary Agent, Foundry Literary
Ross Browne, President, The Editorial Department
John Burbage, Evening Post Press
C. Hope Clark, Author, Editor of Funds for Writers
Brenda Copeland, Executive Editor, St. Martin's Press
Robin Cutler, Manager, IngramSpark
Anne Dalton, Attorney, Dalton Legal
Mitchell Davis, CEO, Bibliolabs
Laura Dawson, Product Manager, Bowker
Ellie Davis, CEO and Founder, Pressque
Rachelle Gardner, Literary Agent, Books & Such
Rebecca Gradinger, Fletcher & Company, Literary Agent
Jacqueline Gum, Author / Content Manager, Where Writers Win
Kendra Haskins, Art Director / Web Developer, Where Writers Win
Jeff Kleinman, Founding Partner and Literary Agent, Folio Literary
Eric Liebetrau, Non-Fiction Editor, Kirkus Reviews
Terri Ann Leidich, Publisher CEO, BQB Publishing
Brenda McClain, Media Trainer, McClain Communications
Claire McKinney, CEO and Founder, Claire McKinney Public Relations
Kathy Meis, Founder, Bublish
Frank Monahan, President and CEO, Rocket Science Productions
Christine Munroe, US Manager, Kobo Writing Life
Will Murphy, Senior Editor, Penguin Random House
Lorin Oberweger, Founder / Author, Free Expressions
Signe Pike, Author, Freelance Editor, Former Random House editor
Cindy Ratzlaff, Founder / Publicist, Brand New Brand You, Marketing 360
Orna Ross, Founder, Alliance of Independent Authors
Miral Sattar, CEO and Programmer, Bibliocrunch
Shari Stauch, CEO and Founder, Where Writers Win
Rachel Sussman, Founding Partner / Literary Agent, Chalberg & Sussman
David Symonds, General Manager, CreateSpace
Tarah Theoret, Reader Concierge, NetGalley
Adam Witty, Founder and CEO, Advantage Media Group
Maya Ziv, Editor, Harper Collins
Sponsors and Exhibitors
CreateSpace
Kindle Direct Publishing
Kobo Writing Life
Rocket Science Productions
College of Charleston
Where Writers Win
Bublish
Bowker
BooksILove
Biblioboard
Advantage Media Group
Pubslush
Independent Book Publishers Association
NetGalley
The Editorial Department
Alliance of Independent Authors
Bibliocrunch
Scratch Magazine
IngramSpark
BQB Publishing
BookLogix
More Deals/Discounts
Additional affinity discounts (on top of the $50 off early bird) available for conference-goers as follows:
Independent Book Publishers Association (IBPA) members can use promo code PS14IBPA50 for an additional $50 off their registration, making an early-bird registration just $395 for VIPs or $295 for regular registrations. IBPA is a sponsor of PubSmart 2014.
Sponsors and co-producers Where Writers Win (promo code PS14WWW50) and Bublish (promo code PS14BUBBLE50) are offering $50 discounts to their members as well.
Members of the South Carolina Writers Workshop (SCWW) may also take $50 off their early or late registrations using promo code PS14SCWW50.
$50 student discounts to any full-time student who wishes to attend, using promo code PS2014STU50. Students registering with the discount should be prepared to present proof of status at check-in. (PubSmart sponsor College of Charleston will additionally award three full scholarships to attend).
For those who aren't members of one of these groups, famed writing journalist, conference blogger and PubSmart speaker Porter Anderson is offering $30 off to his readers; use code PS14PA30.
Plus, the host hotel, Charleston's famed Francis Marion, is offering attendees a very special rate of $199 (mention PubSmart when you make your reservation!)
Beyond the obvious savings, attendees to PubSmart will be treated to:
Free Wednesday masterclass (and two more master classes free to VIPs)
Wednesday night cocktail party sponsored by College of Charleston in the arena hospitality suite with sweeping views of the city and the bridge
Thursday morning keynote breakfast featuring Jane Friedman
Coffee/tea breakouts in the morning and afternoon
Keynote luncheon featuring author Hugh Howey
Literary Dinner Celebrating the Golden Age of Authors… Then and Now!
Friday "Dish and Dialog" brunch (and preferential seating with faculty to VIPs)
Access to exhibitors and dual-track sessions throughout Thursday
Post-conference access to online videos of every session (VIPs will also have free access to master class videos)
And some "pop-up" events yet to be announced!
Welcome to a new breed of conference for this exciting new age of publishing… right here in Charleston, SC!

Like this post
0